Epifibroin Dressing and Powder
Medical Devices in pure silk fibroin
EPIFIBROIN is an innovative line of Medical Devices, based on 100% Pure Silk Fibroin with permanent antimicrobial protection (AEM 5772/5), for the treatment of wounds, burns and traumatic and chronic ulcers (also infected) and in general of dermatoses with erosions and / or ulcerations of skin and semimucose. Treatment of infections (both bacterial and fungal), rashes, irritations and inflammations. 
Two different Medical Devices Class II b – CE
> EPIFIBROIN DRESSING: Pure Silk Fibroin Bandage with permanent antimicrobial protection.
> EPIFIBROIN POWDER: Powder of pure Silk Fibroin with permanent antimicrobial protection.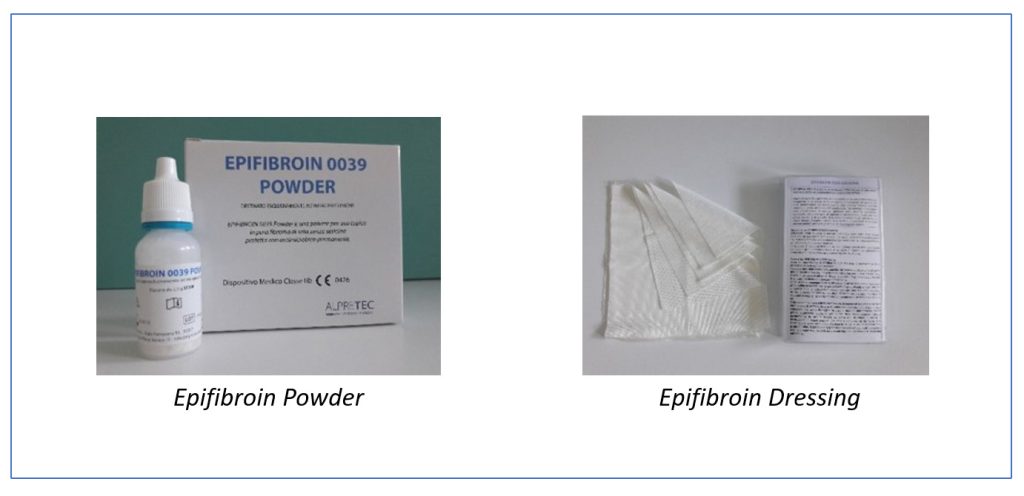 EPIFIBROIN Medical Devices are based on 2 Patents owned by ALPRETEC
1. The technology of permanently bonding a non-leaching wide spectrum antimicrobial on a textile surface for medical purpose (DERMASILK Patent, 2003)
2. The technology of producing silk fibroin powder through an original mechanical process (EPIFIBROIN Patent, 2012)
Antimicrobial protection AEM 5772/5
Permanently bonded to the silk fibroin fibres
Non-migrating, non-leaching antimicrobial
Mechanically interrupts the micro-organisms cell wall (by electrocution)
Not consumed by micro-organisms
It maintains its effectiveness throughout the life of the product
Does not modify the resident skin flora
Does not create microbial adaptation or resistance
Odourless, colourless
Epifibroin Powder
The antimicrobial exerts an efficacious control of inflammations and bacterial and fungal infections of the skin, without altering the natural resident flora. Fixed permanently,  it acts with a physical mechanism, attracting pathogenic microorganisms and destroying their cell membrane.
Patented Silk Fibroin Powder with Permanent Antimicrobial Protection (AEM 5772/5).
The only one that keeps intact the fibroin's aminoacid chains, enhancing their skin regeneration functions.
Highly lipophilic: easily penetrates into the skin.
Highly hydrophobic (soluble in water about 2 ppm).
Safe: 20 to 100 micron powder, does not interact with metabolic functions, has no adverse effects.
Powder obtained from pure silk fibroin fabric with permanent antimicrobial protection, through a patented thermal-mechanical (non-enzymatic) process. 
Epifibroin Dressing
Bandage of pure Silk Fibroin with Permanent Antimicrobial Protection (AEM 5772/5)
Available in various sizes
Test
Numerous test – in vivo and in vitro have been performed on the biocompatibility and bioeffectiveness of Epifibroin Powder and Dressing.